While the balance is certainly shifting towards online sales, physical retail spaces remain an important channel for sales and acquisition, where they increasingly serve as showrooms to drive customers online.
Understanding consumers' changing habits, and particularly the impact of the millennial generation, will be critical in preparing for the future of the retail store experience. Brands, products and services that deliver on the following areas will be the 'real winners' in the future. Designers that help them achieve them will maintain their relevance in a rapidly changing retail landscape.
Simplicity, Convenience and Speed
With the ease and ubiquity of online shopping, consumers now have much higher expectations of their 'physical' shopping experience. Speed, simplicity and convenience are winning over customers across most sectors.
Maria Correia, Director of Interior Design Brisbane at Gray Puksand, worked with London Beauty service provider BLOW LTD in creating a new 'fast beauty' concept that looked beyond the traditional beauty salon to drive a new customer experience.
"I remember while developing the BLOW LTD 'fast Beauty concept' saying to the owners 'There's an opportunity here in extending the proposition and making the experience even faster. Rather than just popping into the environment, can they come to me?'. That triggered them to create a new offer, getting beauticians to come to your house or to your office."
Another example of the push towards speed and convenience is the Chinese chain 'Bingo Box'. As the first unmanned convenience store, the outlets sell beer, instant noodles and traditional snacks, with microwaves, mobile charging stations and soya milk machines. Technology is used to replace the need for checkouts, cash, and sales people; through the use of QR codes to enter the store, and to select and pay for items via WeChat.
Amazon has also entered the convenience market launching its 'AMAZON GO' concept store, selling pre-packaged food, and saying goodbye to lines and cashiers. "You simply launch the Amazon go app as you enter and from there Amazon uses sensors, computer vision and 'deep learning' to track you and automatically register which items you pick up. The customer then just walks out of the store with whatever they want."
Speed and convenience are undoubtedly massive drivers within several service and product categories, however they're not the be-all and end-all of the new retail paradigm.
Fast Fresh
While the convenience store sector is getting a shake up with speed and efficiency, other food retailers are learning that it's not just about being 'fast', it's about delivering fresh, personalised food in a fast environment.
"Millennials are so used to that convenience and that speed aspect that their food experiences are definitely dialing up on the fresh and the healthier alternatives," Correia says. "Which is why McDonald's and Kentucky Fried Chicken have actually been re-evaluating their formats, because these consumers are looking at well-being, health and freshness."
Chipotle is an example of a company that is delivering food in a very fast context, while also offering a high level of personalisation. "Chipotle serves their food fast, but in no way does it resemble fast food. Their aim is to deliver better value with high-quality fresh ingredients that are sustainably grown and naturally raised with respect for the animals, the land and the farmers who produce the food. Hours to prepare seconds to serve."
Fun
Retailers are quickly realising that the old approach of piles and piles of products just doesn't cut it anymore. Countless brands are bringing back the fun to the shopping experience, engaging consumers in novel and innovative ways. "Ultimately, retail experiences should simplify consumers' lives and bring back some joy to shopping," explains Correia.
Arket — part of the H&M Group, is a great example. They're pitched as the modern-day 'market', including features such as their Nordic Cafe and a dedicated haberdashery department.
John Lewis — in perhaps a bit of a marketing exercise, developed the 'try our beds overnight' concept. This invites customers to spend the night in-store trying out the beds on offer, with the aim of 'selling you the perfect night's sleep'. They also run rooftop experiences in their flagship London store with their 'Open Air Gardening Society' rooftop garden restaurant, pub/taco pop-ups, and morning exercise classes.
Top Shop — the fashion retailer employed Virtual Reality technology to bring a playful touch to the launch of their Summer season. The VR Waterslide takes visitors on a free virtual ride around the Oxford Street shopping precinct, while the theme extends indoors to the visual merchandising (with slide components on display).
Many retail brands are also incorporating a more refined sense of hospitality into their spaces. US retailer Restoration Hardware, for example, is working to break down the barriers created in most retail environments. Their concept stores, such as RH Chicago and RH Boston, marry outstanding heritage architecture and sensitive interior refurbishments to create warm, inviting spaces, more akin to residential or hospitality environments — less about price tags, and more about living with their products.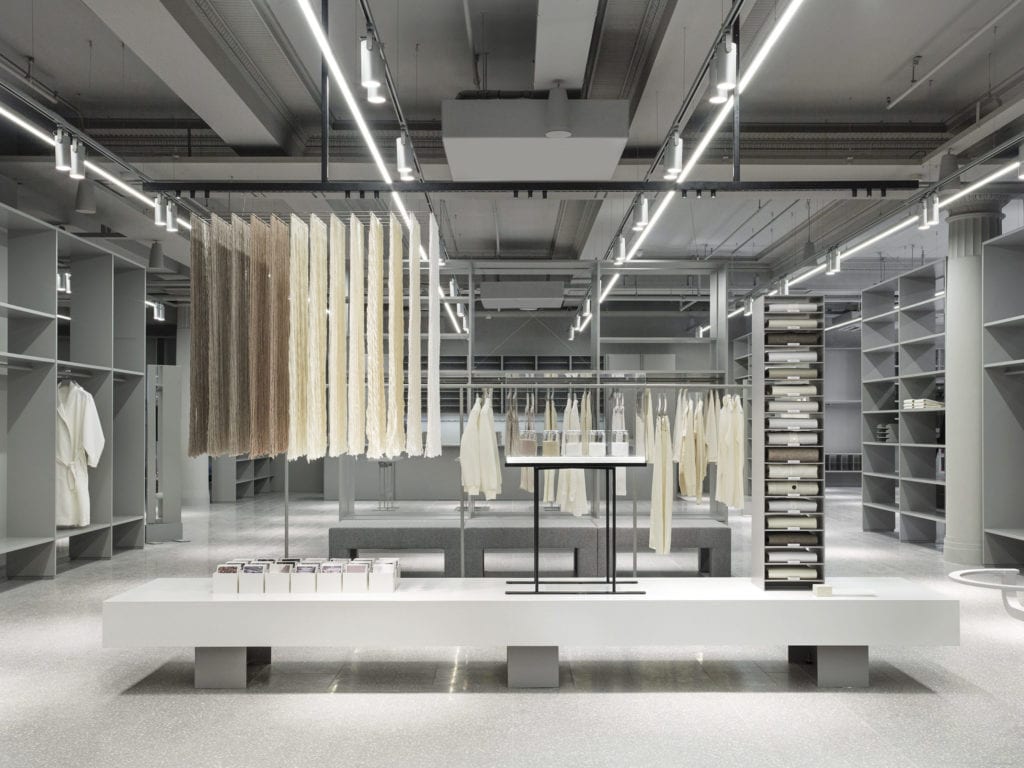 Our Role as Designers
Ultimately, consumers are looking to retailers to create more than just 'a place to shop'. That very basic transactional concept has been well and truly usurped by online shopping. So what is the role of the interior designer in this new world?
"The role of designers is to create experiences that emotionally connect with consumers, build brand loyalty and create lasting impressions," Correia says. "We do this by designing inspiring solutions that deliver commercial results."
Designers need to understand the importance of customer experience within space, but also the experiences before and after customers visit the retail environment; designing spaces that transcend product and move beyond the transactional.
Gray Puksand has an important role to play in helping retail brands to understand their consumers. We need to use our research, collaboration and engagement methodologies to delve deeper into customer behaviour and the needs of the brand; to design physical spaces that encourage customers to venture out, not just 'add to cart'.