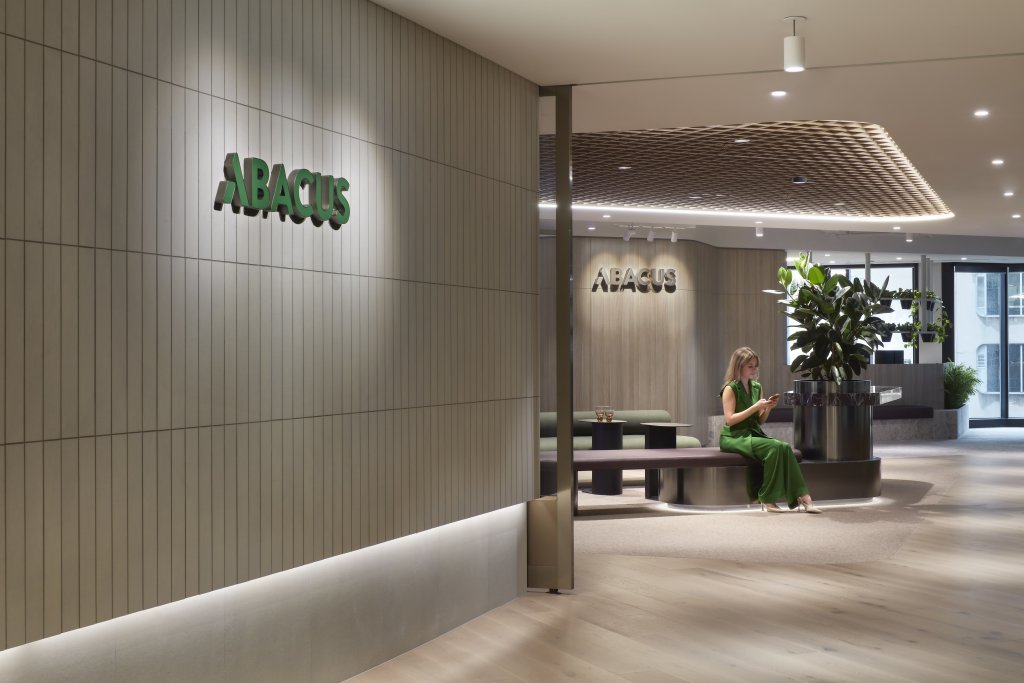 Creating a cosy haven through a nature-inspired rich palette, the new interior fit-out for Abacus Property Group fosters a new standard for connection in workspaces.
Abacus Property Group's new headquarters leans into the desire to connect staff with both nature and each other. Exuding warmth and character, the design promotes a sense of discovery through unexpected planning and materiality.
The completed layout is inspired by developing the space for two challenging priorities; sight lines between staff in the workplace, and a space to host AGMs and events. We introduced a new 45-degree geometry during the planning stage that connects architectural elements in the form of bay windows to critically enable planning efficiency.
"In workspace design, it's common to build around the core. We haven't done that here. Instead, we've created two triangular forms where staff can work, collaborate, and play. We then placed all the office amenities in the central A-frame," explained Dr Donna Wheatley, Partner at Gray Puksand.

Upon arrival, guests are greeted by a soft timber palette, with furniture organised under an open cell ceiling. Rich-coloured benches and individual armchairs provide guests with varying levels of comfort in deep crimson, rust, and olive. The assortment of furniture features marble rosso levanto and bizanto stone benchtops, situated near a large planter box with a fiddle leaf tree.
The open cell ceiling continues through to expansive social spaces, where the warm materiality and rich sense of texture offer socialisation with a sense of relaxation. This continues into the collaboration zones throughout the workspace, where breakout rooms can host informal and formal meetings.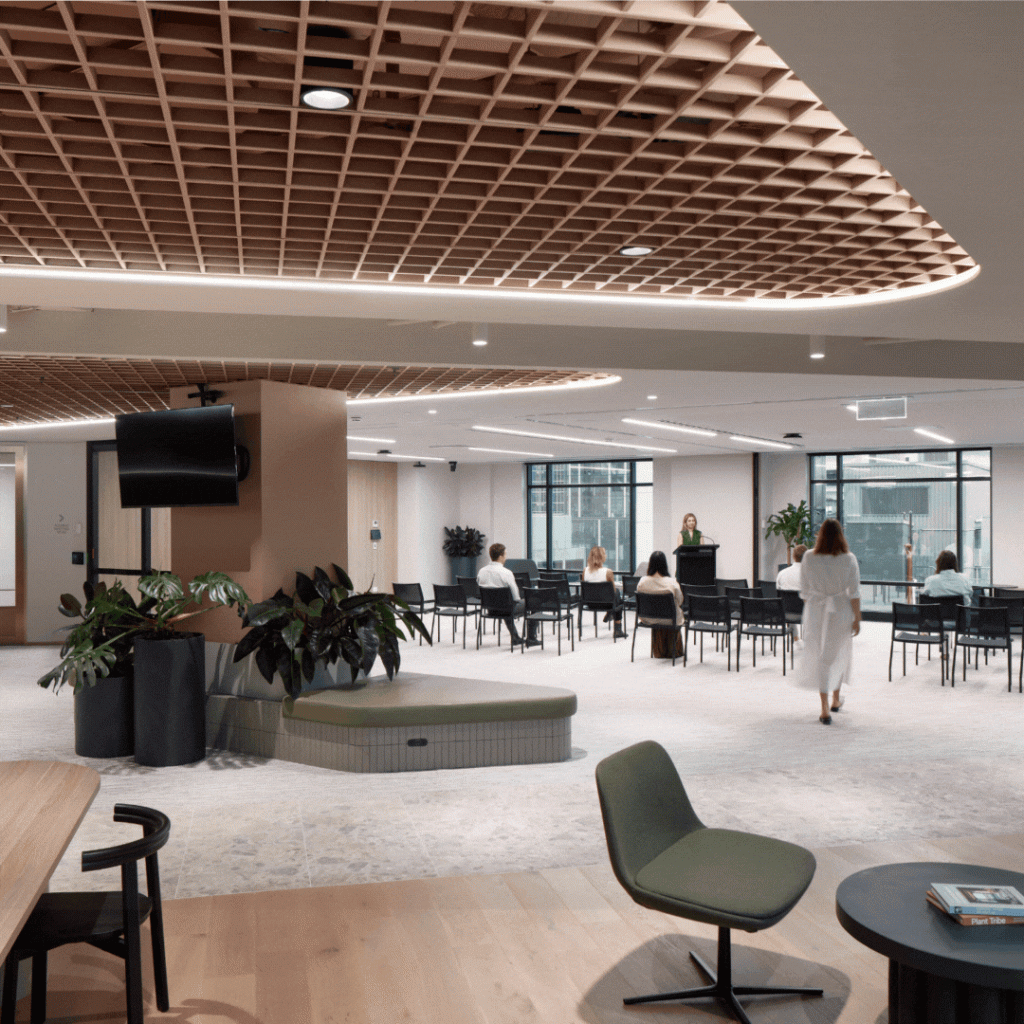 "As you walk through the designated path, the social spaces flank both sides to include collaboration zones, a kitchen, front-of-house meeting rooms, waiting areas, and a 5-way configurable function space," explained Dr Donna Wheatley, Partner at Gray Puksand.
The new design allowed for continuous sightlines throughout the space so staff can interact freely and regularly, while also creating noise barriers and privacy using sliding doors. "This was an essential inclusion for the client as they wanted to encourage communication among team members. If you were to pop your head up, you can see everyone in the office and feel closer to the team," said Dana Pizzolato, Senior Interior Designer at Gray Puksand.
The Gray Puksand team specified environmentally safe and accredited materials to achieve maximum sustainability wherever possible. "By working collaboratively with cabinet makers, we modified the joinery to minimise waste. For example, they were able to guide us to install a slightly smaller island bench using less material, recycled chipboards from other projects, with reduced waste and more sustainable outcomes," explained Lauren Oneile, Senior Associate at Gray Puksand.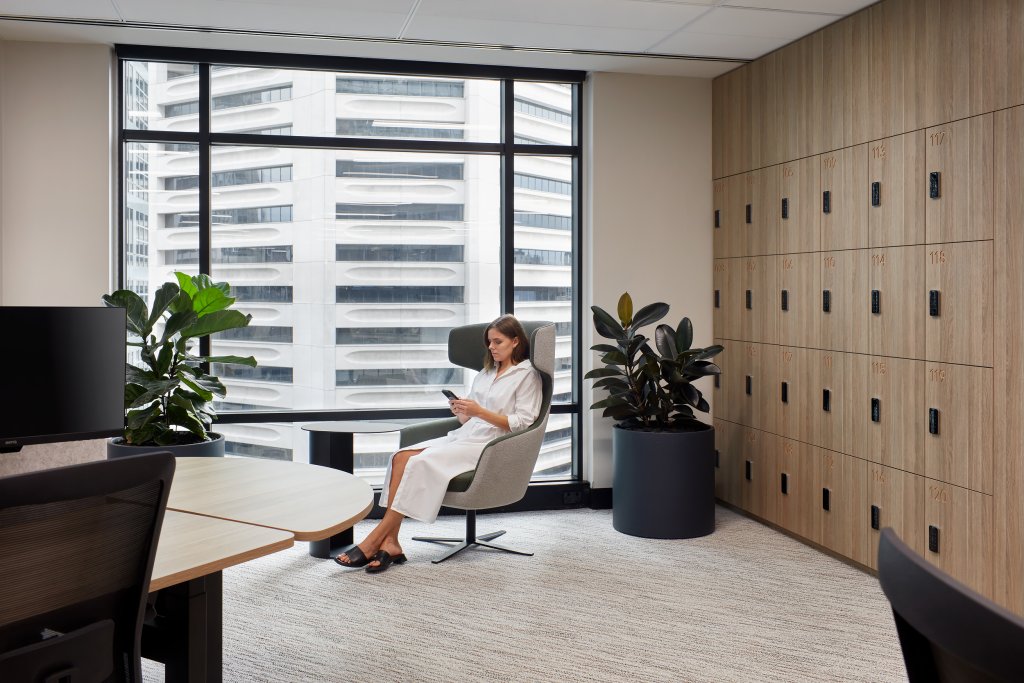 Gray Puksand is continuing to bring its brand of deep client understanding to its designs. This project demonstrated a deep consultation period prior to the commencement of the design. The result is a thrilled client and a welcoming office experience for employees.
"The office refurbishment was driven by the aim to future-proof our growing team. We were so impressed with how Gray Puksand captured the heart of Abacus Group through the new design. We've received some great feedback from staff, clients, and new business prospects that we've brought into the office," confirmed Thomas Aitchison, Senior Development Manager at Abacus Property Group.