Gray Puksand reinvigorates the William Angliss Institute's new Sydney campus.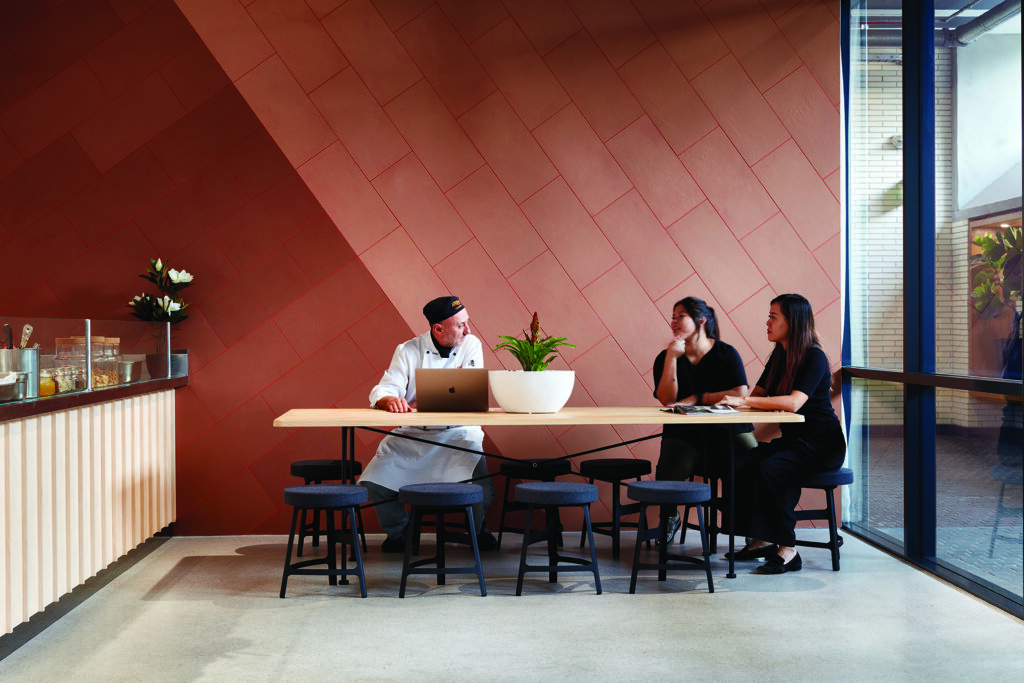 Australia's hospitality sector has grown steadily over the past five years, bolstered in no small part by a rising 'foodie' culture and surge in people wanting to own cafes, bars and restaurants. The demand for training has therefore increased, and specialist service industry training centres around the country have responded accordingly. One such institution is the William Angliss Institute (WAI), which recently relocated its Sydney campus to a building in the inner south suburb of Alexandria.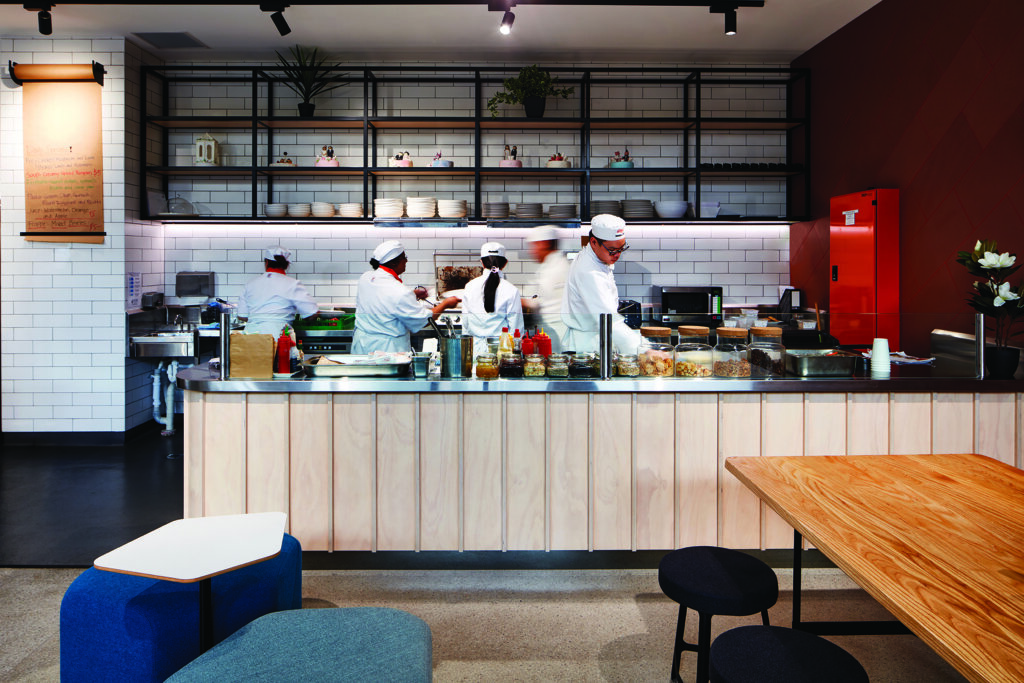 Gray Puksand was tasked with designing a modern fit-out that would position the new first-floor premises as a leading educational facility for hospitality training. As a Partner of Gray Puksand and Project Director on WAI's Sydney campus redesign Craig Saltmarsh explains, "The client was looking for efficient, functional and practical spaces that would provide a transparent and collaborative learning environment for up to 350 students. It was also important we deliver a dynamic fit-out that reflects the progressive William Angliss brand and stands out in the competitive Sydney market."
Programmatic requirements were strict and while the 1,900sqm floor space is compact, Saltmarsh and the team, including Project Architect Jun Lee and Lead Interior Designer Aimee Munro, managed to meet the brief, without compromising style. Intelligent planning deftly accommodates a number of commercial training kitchens, including a Superkitchen, demonstration kitchen, patisserie kitchen and a showcase restaurant kitchen, along with five classrooms, an administration area and ground-floor training café open to the public. Complementing these high functioning spaces are a series of informal settings that can support both autonomous study and group activity.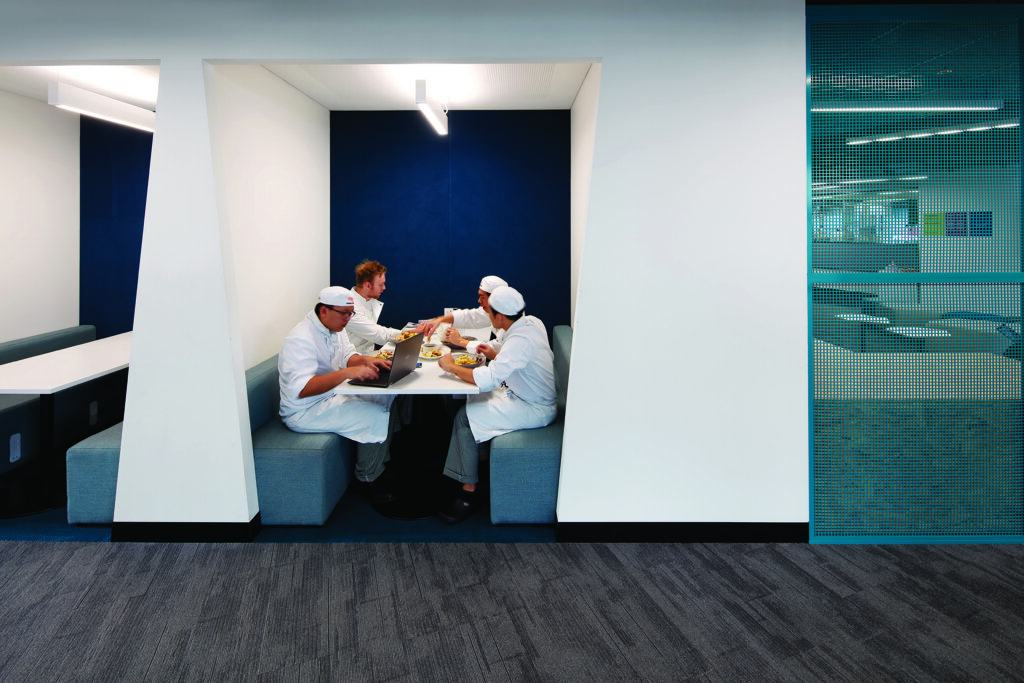 "It was always our goal to design comfortable spaces that students would want to spend a long period of time in," says Saltmarsh. "So we've introduced a seamless transition between practical areas and break-out spaces, which creates an open learning environment." Such agility supports current pedagogies promoting collaboration and also facilitates a sense of connection throughout the entire floor. Generously sized windows allow the classrooms and kitchens to be visible to those outside and an absence of partitions in the break-out spaces encourages interaction.
These areas are made all the more welcoming with a colour and material palette that not only reflects the sophistication of the William Angliss brand, but also takes inspiration from Alexandria's semi-industrial context. Built-in OSB seating and benches, powder-coated perforated steel detailing and charcoal grey carpet operate as contemporary accents that appear bold without being overstated. They're balanced by clusters of upholstered stools in cream and blue, pale timber tables and bright orange carpet inserts that add visual interest, as well as effectively zone the open plan.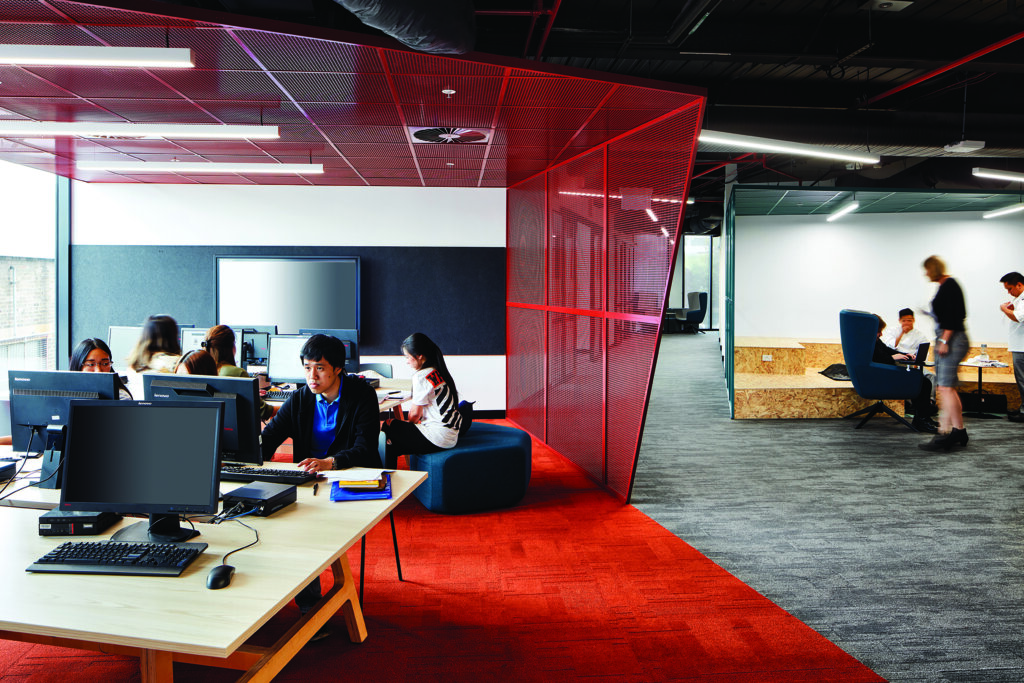 This palette is loosely extended to the street-front café, which makes the most of blackened steel framed full height windows to create a fresh interior that is both on-trend and elegant. It makes an excellent impression and works hard to connect students to the public, allowing them to exercise their new skills on a daily basis. The design of both the café and first-floor facility sets a new standard for this typology and most importantly, provides students with an environment they enjoy learning in.